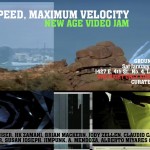 "zero speed, maximum velocity: new age video jam"
Curated by A. Mendoza
Hosted by Groundspace Project
1427 E. 4th St #4, LA 90033

From the poetic to the confrontational, "zero speed, maximum velocity: new age video
jam" is a one-night video extravaganza on Saturday January 12 at Groundspace
Project in downtown LA.The nine artists featured are Lewis Klahr (LA), Jody Zellen (LA), HK Zamani (LA),
Jimpunk (France), Janie Geiser (LA), Susan Joseph (LA), Brian Mackern (Ururguay),
Claudio Castillo (Miami), A. Mendoza (LA) & Mr. Tamale (LA).

Their work is varied in wildly different ways; from digital to hand-made; from stop
motion animation to time-based, generative paintings .

Lewis Klahr's films unspool like Delphic visions or vignettes glimpsed in a crystal ball in
which dream, memory, and history are indistinguishable. His work has been part of two
Whitney Biennials and most recently was featured in the Drawing Surrealism show at
LACMA.

New media artist Jody Zellen's digital environments manipulate existing technologies to
activate both public and private spaces in a playful relationship between what is seen
and what is imagined.

HK Zamani sees his work within the extended field of painting His performance-based
videos address issues of vulnerability and power.

We don't know who or what French artist Jimpunk is, but we are sure we like his/her/
their hacked, sampled, scratched, cut-and-paste and media mashworks.

Master puppeteer and world-renown filmmaker Janie Geiser makes poetically lyrical
films transport you to a separate reality.

Susan Joseph makes performance-based video and sound montages that play on her
internal dialogue in a self-disrupting narrative.

Brian Mackern is a new media artist based in Montevideo, Uruguay, who has shown
and performed throughout South America, Europe and Asia.

Claudio Castillo produces generative, non linear animated, reactive paintings that are
driven by real time data streams.

A. Mendoza is a multimedia artist who was in 2006 voted World Cyber Wrestling Net
Champion of WWW in the London NODE Festival. More recently, together with Jimpunk
they were commissioned a video collage "Artist Response" for the "Drawing
Surrealism" show for the LACMA Web Site.

The evening will be capped by Alberto Miyares and A. Mendoza who perform as the
collective Mr. Tamale and will set loose their retina-melting audio-visual assault with
help from musical collaborators.